Well, sorry for the week's delay, but I was off in Atlanta on business (really, an elaborate, expensive ruse to boardgame and have the company pay for it).


When we left off, we had listed off several items that may or may not constitute a strong, definitive ideal of "Ameritrash". For the most part, save Production Values, I think we nailed a lot of them. To be fair, I think that "Production Values" is really a modern Ameritrash thing...AT titles these days are filled with tons of nicely-produced bits that we wouldn't have dreamed of getting for these prices several years ago. Some have pointed out (and rightly so) that *all* games these days have seen a general ratcheting up of production quality as boardgames fight to catch they eye on a crowded shelf. Therefore, I've given up tilting at that particular windmill, and concede defeat.


So...how do we apply what we've learned? I thought it best to take three seemingly similar titles, lay out the elements of them that would make them candidates for being "Ameritrash", and find out the differences that keep some or all of them out of this category.

As a disclaimer--I consider all three of the below games to be excellent. Do not mistake any of the discussion that follows to be criticism. This is, as Barnes would put it, "Ameritrash Academia".


The three games for consideration all share a similar theme--the "Dungeon Crawl". All have the typical fantasy characters and races, the dungeon setting, and the trappings you would expect from such titles in the form of spells, combat, dragons, and more. The games I've selected are Drakon 3rd Edition, Dungeon Twister, and Descent.



Drakon 3rd Edition:






Luck: Players have a hand of tiles that are drawn randomly. When players place tiles, they refill their hand with a random draw.

Theme: Six adventurers have been captured by Drakon and offered a sporting chance; the first of them to collect ten gold will be set free; the others will be dragon chow. The adventurers are all archetypes of the fantasy genre--a warrior, a wizard, a dwarf, an amazon, a thief, and a barbarian. They all have a one-off power relating to their "class" that gives them flavor--the wizard can walk through a wall, the thief can snatch gold from another player, e.t.c.






Conflict: This one's a little iffy, but it's there. Though you cannot attack another player directly, many tiles can be placed that allow you to trigger nasty effects for an opponent, including moving Drakon into their room which sends them back to the start and losing gold to boot. Other tiles include destroying other tiles in play, mind controlling your opponent, placing tiles that force your opponent to move a certain direction, steal gold directly from your opponent, and more. Also, some of the character powers directly involve affecting another player, such as the thief/rogue.

Production Values/Plastic Bits: This one cheats a bit because it wasn't until the third edition that plastic figures were added for each of the characters. Also, as stated above this is not as important of a consideration. However, it is difficult to look at the highly detailed miniatures and not give a nod here. Plus, the new tiles are nice and thick, and the overproduction even extends to having an elaborate, ornate token for each player that only serves to show if you've used your ability yet or not.




Player Interaction: With two, you are free to both go in your own direction if you so choose. This makes for a much less interesting game. With multiple players, you cannot help but interact with the other players--you are going to place tiles that mess up the plans of other players. And since there can only be one winner, you are going to be doing everything in your power to screw with them. You don't have the super-direct player interaction that you'd find in the typical AT title, but if you've played your cards right you can destroy their intended path, put nasty obstacles in front of them, or use other tile triggers to steal from them, force them off in other directions, or what have you.


The Verdict: So we seem to hit all the sweet spots, but I would not consider this a true AT title. Why? Look no further than the rules...the rulebook is four pages, and half of that is essentially a glossary describing what the tiles do (each tile has a symbol to show their effect). Since this information is duplicated on six player aids, this part is superfluous anyway, and you're left with two whole pages of rules.

Also, while the game has a dungeon-crawl fantasy theme, it is not far enough removed from the level of abstraction where you could strip the theme completely away and replace it without effort. The game could easily be re-themed to The Running Man, with each player representing a differenct convict with a one-time ability and Drakon representing Jesse Ventura's character or something. Hell, you could remove the theme completely and leave it abstract with generic pawns and score chits.

Lastly, while there is Conflict and Player Interaction, it borders on being too indirect at times. Maybe, just maybe, if you could move into a tile and fight with another player directly, that might do the trick.

My vote: Not AmeriTrash.




Dungeon Twister:





Luck: Dungeon Twister gets dinged here. The placement of the tiles for the dungeon has randomness to it, but the action from that point forward is all deterministic. You know how far you can move, you know how strong each character is in combat, and even the combat itself uses a deterministic card-driven "play a card from a limited pool to boost your strength" type deals.

Theme: Again, another Dungeon Crawl, but this time you have two opposing parties of adventurers (more parties can play with the 3-4 player expansion) who want to kill their opponents, escape out the other side and take a little treasure with them on the way. You have your typical fantasy characters--the rogue, the warrior, trolls, goblins, wizards--alongside the trappings of a fantasy game with fireball spells, spiked traps, and more. Still, this veneer of theme peels away more easily than Drakon, a point we'll discuss more in a bit.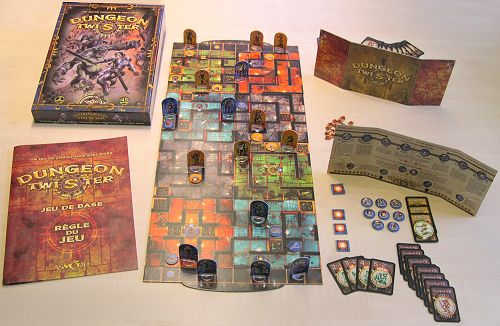 Conflict: In this, Dungeon Twister succeeds in spades. In a two-player battle, it's definitely a zero-sum game--I kill your characters or steal from you your items, I twist the passages to block your movement, I attack you when I get the opportunity...there's no denying here that this has oodles of conflict. Your warrior charges me only to get a fireball in the face for his trouble...

Production Values/Plastic Bits: Not as relevant. The game uses character stand-ups and cardboard tokens and tiles. Still, it is notable that Asmodee wasn't satisfied with the components of the first edition feeling they were too flimsy and thin and sent out FREE replacements to first edition customers. The replacement stuff is indeed much thicker and sturdier than before. Also worth noting is that there were plastic miniatures released seperately, and these look very nice...but weren't released in the US, a bit of a head-scratcher considering our AMERITRASH HERITAGE. Since the expansions continue to be released in the US unabated, perhaps they'll reconsider.


Player Interaction: Bucketloads. You have to escape out through your opponent's starting area. No way to just "sneak around" your opponent--you've got to go right through his home base. You can move in and attack your foes. You can use the "Dungeon Twisting" mechanic to block your opponent in, prevent his chances for escaping, or corral him toward your waiting combat monsters. If one of you casually waltzes through the other side, something is VERY wrong.


The Verdict: This one has a decent enough ruleset to cover what is essentially a very different take on the dungeon-crawl/fantasy skirmish type game. They still aren't heavy by any stretch, but certainly more involved than Drakon's.

The theme criticism hangs over this game much more strongly than Drakon's though. This one is only a few steps removed from absolute abstraction; in fact, many gamers are quite surprised when they first try the game as it feels more like Chess than it does your prototypical AT title of old. You could easily change things up a bit and apply the theme of the upcoming Tannhauser to this, for example.


My vote: Not AmeriTrash.




Descent:





Luck: Heh...where do you want to begin?

First off, Descent has something that the other two games distinctly lack--dice. When you question most players about what constitutes an American-style game, dice is usually front and foremost of the responses you'll receive.

When your warrior goes smashing into the skeleton hordes, you might know your odds of success, but the dice can still betray you. Every swing, every attack are governed by the whims of the dice (alongside whatever loot you can pick up inside the dungeon, of course).

The Overlord players similarly is governed by the same luck--his monsters attack using the same dice. On top of this, he has a hand of cards that are drawn randomly, granting him the ability to spawn certain monsters or affect the players in mean and nasty ways.

Is it governed by luck? Not at all. Strong tactics will certainly carry the day, just like any good game. However, there is the chance that Lady Luck can abandon you at just the wrong time...and as any good AT'er knows, that's when things get really interesting.


Theme: I know that some will argue with this point, but Descent achieves a level of marriage to theme that is not quite as easily stripped away. Characters have very specific stats and powers relating to them and what type of character they are; items grant very specific powers and abilities; the idea of a level is not to wander around and achieve some point-based goal but to reach the "end" of the dungeon level. In that regard, the players really are on a "quest" to achieve a tangible goal. True, the Overloard player is playing for "points" or kills, and the fact that players "re-spawn" after "dying" takes away from the theme a bit.

Blame that on the popularity of the MMORPG, I suppose, where gamers expect to die, respawn back in town, and wander back to their original carcass to pick up whatever loot they had left.

Still, to that end, the theme is very strong, with mechanics that obviously serve the theme and not as easily stripped away or distilled into a more abstract form.





Conflict: Conflict here takes on a bit of a different form in that one group of players is working against another, and the adventurer players do win or lose as a group. However, this sort of mechanic serves games such as Fury of Dracula quite well, and in no way detracts from the conflict of the game system.

Players have direct goals that are in opposition to one another and this of course results in a zero-sum game where I win, you lose. The Overlord wants to stop the players; the players want to reach the end of their quest. There is no way for these two goals to co-exist--and this strikes at the heart of what people refer to when they say Eurogames are lacking in "conflict". Too often, the conflict in a Eurogame is not zero-sum; our goals are not mutually exclusive.

I realize that I could define the word "conflict" better in terms of this, but I think the AT fans know what type of conflict I'm talking about. In Carcassonne, I can play a tile to finish a city before you were ready....oooooooh.

Here, I can have my dragon chomp your warrior clean in half. HUZZAH~!



Production Values/Plastic Bits: "Over the top" doesn't begin to cover it. A glut of plastic miniatures, thick tiles, tons of cards and tokens, cardboard doors with stands, character cards, this is a veritable orgy of bits. Fantasy Flight Games is unashamed to take up the banner of AT and does so with some real panache here.

If you have a bits fetish, you will need counseling after looking at this. If you need advice for a good therapist, I have a few on my speed dial.






Player Interaction: Hand-in-hand with conflict here. Players on the side of the adventurers must interact and plan how best to use their resources...who should smash what monster? Who needs to stay back and heal? Can you provide enough cover for the sorcerer to do his thing?

The Overlord's entire game is based upon stopping the adventurers, and he will do this by directly interacting with them, by attacking them, playing cards against them, doing whatever it takes to slow them down. Again, the interaction comes from having mutually exclusive goals--no player can be passive lest they give the win to the other player via inaction.


The Verdict: What more can I say? This one has all the tickmarks of an AT production and then some. A meaty rule set. A not-easily stripped away theme. Rules and mechanics that solely exist in service of that theme. Random dice that although you can play the odds, they can still betray you. Nasty player interaction. Combat. Killin'. Dragons. Monsters. Swords. Treasure. Plastic pouring from the box the moment you open the lid.


My vote: AmeriTrash.




The Wrap-Up:

This is another time when I am welcoming your feedback and thoughts on this evaluation.
One thing I thought was worth further discussion was this idea of "zero-sum" conflict. In Drakon and Dungeon Twister, it is arguable that both do NOT have "zero-sum" conflict until the game reaches a certain point. For example, the amount of gold in Drakon is an endless resource; you and I can move about, content to collect our gold independently of each other. A gold piece gained for me is often not a gold piece lost for you (barring the "steal" tiles, of course).

The game reaches a point where it is zero-sum, of course, but it is only at that point where ALL games become zero-sum--at the point of declaration of a winner. That tenth gold piece in Drakon represents that point. Up until then...these are just arbitrary VPs that can be pulled from a infinite supply, and only at the end do our goals come into conflict with each other.
I feel that a lot of Eurogames are like this--in that we can co-exist, gain points without interfering with one another, and a point gained for me is often not a point lost for you. It is this particular type of conflict that I think helps us differentiate between the genres of games, possibly moreso than any of the other defining elements. Theme is important, but as demonstrated above theme alone is not enough, it only gets the game's foot in the door (so to speak).
There are also those who argue that theme is only applied in such a way that it helps us remember the game's mechanics, and to some degree I can agree with that. But it's obvious that in many games--particularly AT titles--that mechanics exist solely to serve the theme.
Thanks for reading, and I look forward as always to your excellent feedback.