As the world waits for this year's crop of Superhero films (Spidey 3, FF 2) the comic book fans among us are waiting on Marvel Heroscape to finally grace store shelves.


The idea is of course so obvious...Heroscape has been a tremendously successful product for Hasbro, bringing a level of AT Geekiness to the store shelves of Target and Wal-Mart, and managing to cross that "mass-market" barrier that so many games find difficult to cross.

Your mind begins to wonder at the possibilities of licensing this system...and it doesn't take long for the geeky mind to move to one of the biggest licensed properties in the world, Star Wars. It's a natural fit--packs of Star Wars heroes and villains would be flying off the shelves as fans gobbled up ten different versions of Luke, Han, and company.

The first thought is of course George Lucas' reluctance to allow his properties to intermingle with others, particularly in the same setting or framework. Lucas is something of a renowned control freak, so that is understandable. Of course, that idea flies right out the window when you consider that Hasbro made both Transformers and Marvel Heroes characters for use in the game Attacktix, even going so far as to package Star Wars and Transformers characters in the same pack!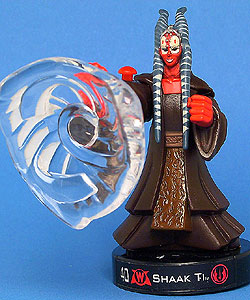 Running out of options to stop
General Grievous, Shaak Ti was
forced to throw her best candy dish

So we're looking at a company that owns the rights to a system that lends itself well to expansion and licensed properties....the *same* company owning the rights to one of the biggest franchises in the world...and yet...as far as I can tell, there are no plans for a
Star Wars Heroscape
.
Why is that?
Let's take a short trip back in time to 2002, when
Epic Duels
was on the shelves. Most geek gamers know the story of that one; this was released during a time when most gamers (especially Ameritrash gamers) knew nothing about BGG and had no online resource for telling if a game was any good or not. I saw Epic Duels on the shelves many times but assumed it was bad, licensed drek--let's face it, Star Wars up until that time had a pretty poor reputation in terms of licensed boardgames and videogames (it was this same assumption that had hampered sales of AH's stellar
Star Wars: The Queen's Gambit
a few years before).
Epic Duels became a word-of-mouth phenomenon, but not in time to save it from the clearance racks. I heard from a friend who said it was a great game, and scooped up a copy from K-Mart as the last of them were flying off the shelves for $5 apiece.
Of course, as you know, now the flagship Hasbro product for Star Wars is
Star Wars Miniatures
. I think that SWM is a fine system and quite a bit of fun, and really is only a few magnitudes of complexity removed from Heroscape. As you are also probably aware, SWM uses the random blind booster packs for distribution.
This creates a bit of a problem.
Let's look again at Epic Duels. The game included 31 plastic figures (badly painted, but I digress), including *all* the big names from the Star Wars franchise. Vader? Mace? Luke? Leia? Han? Chewie? Boba? ALL of them were included. You also got two double-sided gameboards and custom decks for each team that was included in the game, whether it was Vader and his two Stormtroopers or the AOTC team of Jango and Zam. The kicker to all of this was the fact that even at full retail price, this only cost $20.
$20! I know most of us bought it for $5 or so, but $20! That was it!
I will not dispute that the quality of the Star Wars Minis is far better than those included in Epic Duels. But for the same $20, you get
one
pack of randomized figures, and you are desparately hoping every time you crack one of them open that you at least pull someone that had more than five seconds of screen time. The heart doesn't exactly leap when you reveal your treasured rare only to find San Hill (who? I'm a Star Wars geek so that's a rhetorical question, but you get my point).
Do you see the problem here?
If gamers were allowed to get their Star Wars fix in a non-randomized fashion, the ability to sell you a pack of figures containing the illustrious BoShek as your prize would be destroyed. I've seen online petitions asking for Epic Duels to be returned to print, but the rationale is the same--if you can get 31 figures for $20, why would you go back to paying the same price for 7 random ones?
I think that the potential for repeat sales of packs would be considerable--after all, just imagine how many packs of a six-pack of Stormtroopers would fly from shelves every time they were stocked. Imagine wanting to play the Endor scenario and just buying a pack of Scout Troopers to make that a reality quickly and easily. Couple that with unique packs containing Obi-Wan, Chewie, and all the rest of your favorite characters...the mind boggles.
I think that Marvel Heroscape is going to probably crush and do away with the Heroclix brand for the same reasons--if you want Ultron, why buy random packs until you hit one when you can just go pick up the "Avengers Enemies" Heroscape pack from Toys R Us? I think Hasbro understands this and won't likely trample on their own product lines. This is probably sound business, but it doesn't stop me from hoping that if the SWM line finally goes down in flames, we'll see Luke Skywalker, Jedi Knight draw his lightsaber as an orc riding a dinosaur bears down on him.