And now for something completely different....let's talk about games, shall we?

Is it just me or are boardgames becoming more like the
videogame
market? Anyone who is a fan of
videogames
knows exactly how drought-laden the summer months generally are. You spend your time looking for something, *anything* to play, but there's not much new out there. Naturally, the holiday season comes, and suddenly you are swimming in titles left and right.
Board games aren't quite there yet, but it does seem that major titles are more and more prone to slip until we see a Fall/Winter influx of all the stuff we've been looking for. That's primarily why I was
suprised
that Tide of Iron released when it did--I figured that sucker would just slip on towards Christmas. Then again, I think Fantasy Flight has other plans for this holiday season and probably doesn't want to compete with their own titles.
Here is a list of games that I'm looking for during the remainder of the year. I'm well aware that some of these will inevitably slip toward early 2008, but given the number of titles and the empty-wallet syndrome that will surely follow, that will just give me time to catch up.
Age of Conan
I was glad to hear that no one is actually playing Conan himself, but instead will be leading one of several nations. I've always disliked games that give everyone copies of the main characters (both Star Trek
CCGs
come to mind), as it's sort of a design cop-out. Instead of guiding Conan in his quest to crush his enemies, see them driven before him, and all that rot, you'll be trying to benefit from Conan's wildly unpredictable influences.
The only thing I'm worried about is getting a big-time "
Groo
" vibe when playing the game--"Conan's coming! Hide the livestock!" "Did I err?"--so I'm hoping that Conan's bursts of violence will be devastating as opposed to comical.
CROM
!
I'm thinking this one won't make 2007 after all, as pictures and other details have been very slim, but if it does, you'd better believe this one will be sitting underneath the "non-denominational holiday decorative item" of your choice come December.

Last Night on Earth, The Zombie Game


This is one that took me by surprise, having only heard about it within the past month or so. For whatever reasons, zombie and horror games have always had a tough time of things...I'm sure many of us have tried "Zombies!", and I'm almost just as sure that most of us have used or contemplated house rules or variants for that game immediately thereafter. Seriously, they should just rename "Zombies!" into "The Zombie Game Kit", and provide you a few pieces of paper to come up with your own rules.
When horror games are successful, they're often derivative (
Horrorclix
just being an extension of
Wizkids
' existing 'Clix lines) or at their heart, very thinly themed (Mall of Horror is a great game, but only a few steps removed from Lifeboats, the game that inspired it).
Maybe they'll get it right this time. One thing I really like is the fact that the game ships with scenarios--it's not just a zombie blast-a-
thon
, but your heroes are actually trying to accomplish something. Take the somewhat involved scenario that has been published--finding some gasoline for an old truck and getting it started so you can make your getaway. Top that off with characters with differing special abilities--not to mention fitting in to all the established character cliches from horror films--and hopefully we're looking at a zombie game that not only looks great but plays great, too.
The only concern I've had so far was seeing a weapon card for the revolver that instructed you to roll a die--1-3 was a "Miss", 4-6 was a "Hit". That sounds...distressingly familiar. The jury's still out on this one but it's definitely on my list of games to check out.



Starcraft

: The Board Game
This one's the biggie that a lot of people are waiting for--not only are the typical
FFG
big-box junkies keenly watching and waiting for this one, you've also got the HUGE audience who are fans of the staggeringly popular PC game who are also anxiously expecting this title to release.
From the images released so far, it's obvious that we're in for a lavish production--those minis over there are practically whispering
"come to me, my pretties..."
That's something you can always count on good
ol
'
FFG
for--they know (and appreciate) the phrase
plastic orgy.
There has been some consternation among fans of the license in regards to the scale that has been chosen, citing that it is much
differrent
than the PC game. My initial thoughts were that the game itself was going to end up too similar to Twilight
Imperium
to warrant the $80 purchase, a perception that
FFG
lately is vigorously battling (and they had to battle a similar perception about Tide of Iron and Memoir '44, so they're probably getting good at it by now).
What I'm hoping for is a game of the same epic scope as Twilight
Imperium
but playable in half the time and scales well. Twilight
Imperium
would still be the "king of
gameday
" but when time or gamers are in short supply a 'lighter' epic--relatively speaking--would be welcome.
I think I just read yesterday this has officially slipped into 2008, so hopefully
FFG
is taking their time to bring us something special.
Marvel

Heroscape

: The Reinforcements Arrive
Comic
fanboys
geeked
out when Hasbro announced they were releasing a Marvel-themed version of their popular
Heroscape
game.
Heroclix
has been a successful title, but it can be difficult to get the popular characters due to many of the really desirable ones being Rare or Ultra-Rare. So naturally, the idea of getting your favorite heroes in the non-blind boosters that
Heroscape
features was pretty much gaming nirvana.
The initial release is out (though hard to find in many retail outlets just yet), and admittedly the seemingly small selection of heroes is limiting the excitement, if only a bit. There's only so much you can do with five heroes and five villains.
There was plenty of speculation about expansions for the game, as fans hoped to end their battles between Hulk and a horde of
kung
-
fu
monks and get on with the
real
comic book battles they were hoping to see. And on-cue, the expansion announcement has arrive, and it looks *sweet*. Filled with heroes and villains such as The
Punisher
, the Fantastic Four, Beast, Sandman, and others, a few packs of these will increase the number of team builds exponentially. No word yet on distribution, and I'm still wondering if we'll get the Common Army packs eventually (S.H.I.E.L.D., The Hand,
Morlocks
, the list goes on and on).
This is one that I'm surprised isn't out in the States already. I think the American release was being re-worked due to the dreaded "warping board" problem, so I'm hoping we'll see this one very soon.
Take the basic storyline from "
Hellboy
"--Nazis experiment with the occult and the arcane--and add in plenty of
exposives
and machine guns, and you've got the recipe for a action-packed two-player face-off. What I've found most intriguing about the game so far is the game's innovative "line of sight" system. Rather than have a grid-based map like most of the two-player skirmish games of this type, instead you have colored circles that the characters stand in. In short, you can fire on any other circle that shares a color with the one you're standing in. Some circles, such as those in doorways, have more than one color, indicating you can fire in multiple directions. That sounds like a great way to freshen up a game like this, and I can't wait to give it a spin. The
pre
-painted bits look great, the theme is
rockin
', and the
gameplay
sounds like a lot of fun.



Wars of the Roses

Shifting gears a little bit, here's a pure
wargame
that definitely has my attention. Here's a blurb from the publisher's official description:
"The game system employed in Wars of the Roses takes off where the award-winning Hammer of the Scots left off by greatly enriching the card deck. 'Holding your political cards close to your vest' has never meant more. With them, players can now launch or uncover political conspiracies, bring Scotland into the war, hire mercenaries for their cause, go into exile abroad, employ spies to reveal enemy plans, force neutral nobles off the fence, call up the standing army at Calais, mobilize the powerful Northern or Welsh March, lay-low the heads of powerful families, or even marshal the fickle winds of fate to undo the best laid plans of the enemy."
Does that rock or does that rock? Hammer of the Scots was a great Cinderella story in that it's a
wargame
that found tons of crossover appeal to several different audiences--turns out if you make a
wargame
with clean rules, a nice level of accessibility, and great theme (we've all seen
Braveheart
, right? Remember--before Mel went
batshit
insane?), you're going to have appeal to a lot of gamers. I personally enjoyed the "converting nobles" idea very much, just imagining the Bruce going home for the winter and finding an English garrison there--"Wot? No chaps, I was with you all along, you've got me all wrong!"
I'm interested to see how Jerry Taylor expands the political system for this, as politics in
HotS
were all by the point of the sword and clever maneuvering. Take the theme of bloodthirsty rivals willing to chop each other to bits and you've got all the signs of a winner here.
Mutant Chronicles Collectible Miniatures Game
Yeah, yeah, bitching about this game being collectible rather than a true successor to Siege of the Citadel is pretty much old hat and truth be told a bit out of vogue, so to speak. While we don't have a
ruleset
yet, bits and pieces of information on the game have trickled out since it was announced seemingly an eternity ago. Mostly, I think you can expect your typical
CMG
skirmish game here with enough touches of the Mutant Chronicles world to give it plenty of flavor.
The minis on this do take special notice...if they turn out as nice as their preview pics, then I doubt there are many AT gamers who will be able to resist picking up a few of these. I do wish they were the same scale as the Siege of the Citadel figs, as I had entertained thoughts of collecting a
pre
-painted set just for that use, but no luck.
Star Wars Miniatures
Anyone else here still surprised that this one's being made?
WotC's
attention for the line really waned once the final prequel hit theaters and the
TCG
died a quiet death not long after that, but a surprising thing happened--a year later the game kicked back into high gear and hasn't looked back since.
I'm a bit of a strange gamer in terms of "historical accuracy". For some reason, the only
SWM
gaming that appeals to me is scenario play. Sure, I'll play a
wargame
that has myriad historical inaccuracies, but if I see Darth Maul versus
Boba
Fett
on
Geonosis
, I'm done.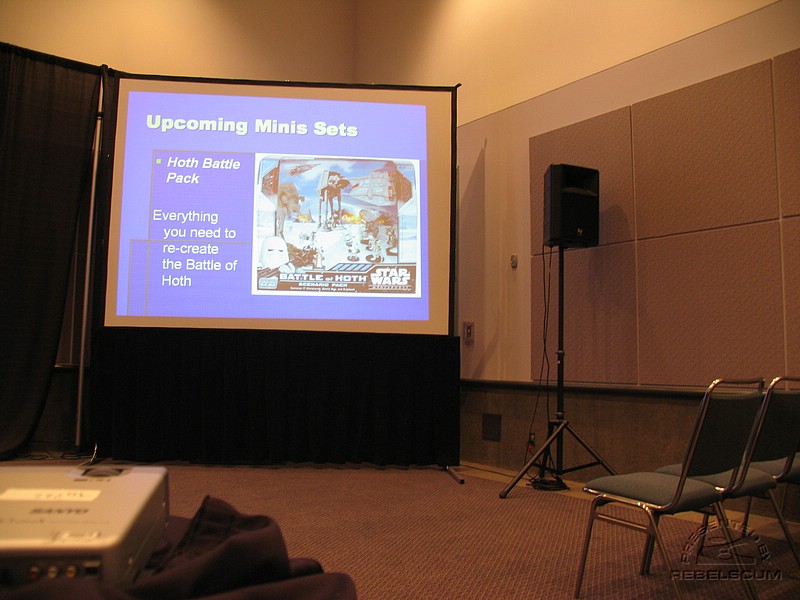 There must be other gamers out there like me, because last year saw the release of the "Battle of
Endor
" pack, containing Stormtroopers, an AT-ST, and a map of
Endor
. I was hoping that the non-blind thing would catch on to make it even easier for scenario gamers to collect what they needed, and looks like
WotC
is paying attention--soon to be released is a much larger pack devoted to the Battle of
Hoth
.
I would like to think that
Heroscape's
success has also had something to do with this--gamers gobble up packs where they know what they're getting--and if the
Hoth
set is successful, look for this trend to continue. Trust me--nothing sucks more than buying a $15 booster pack and finding San Hill as your rare. Believe me, I've been there.



Descent: The Road to Legend
The two biggest gripes against Descent right now are that it's a.) too long and b.) has no campaign system. If I understand correctly, this expansion from
FFG
looks to correct both of those issues.
The heart of the expansion reportedly has to do with extensive campaign rules. I can understand the desire to have that because spending six hours with a character only to have them "reset" at the end of the game sucks. A lot of gamers who left
RPGs
behind are still looking for that pseudo-
RPG
boardgame
to fill that void for them, and Descent looks to be trying quite admirably to be the definitive game to do just that.
The other major selling point--the overland map--I have no idea how this will impact play, but it's possible this will give gamers something to adventure on without having to set up the dungeon piece by piece, which admittedly is a strike against both Doom and Descent in terms of
gameplay
pacing ("hold on, I've got to set this up--you guys go get a drink or something.")
Other details on this have been pretty scarce, and this is another title that looks to be poised to slip into 2008 easily. I'm rooting for Descent, though...it's ambitious, it's old school at heart, and I like it.



Napoleon's Triumph
Speaking of rooting for, a game designer I'm really rooting for is Bowen Simmons. He's a guy who has vigorously provided support for his customers through frequent rules explanation and regular interaction. His Bonaparte at
Marengo
was another crossover hit in the same vein as Hammer of the Scots. Clean rules (except possibly for the somewhat opaque road movement rules, which due take some studying), nice production quality with a mounted board, and a innovative take on combat have all led to the game finding a solid audience. The deterministic, dice-free combat is just something that shouldn't work in a
wargame
, and yet it does here with flying colors. No CRTs, no terrain charts--everything you need is right there on the board.
Bowen's follow-up is available for
pre
-order right now and it looks as though he has taken his system to another level. Adding a much larger diversity of unit strength and types, increasing the scale of the battle, and adding commanders and corps to the action.
All that's left is for Bowen to come up with a clever name for his system a la "Commands and Colors" (it's already been suggested he use
BaM
= "Blocks and Maneuver"), and maybe he'll find his franchise just like Richard Borg has.



That's all I can think of for now, though I'm sure I've forgotten a few. Now is the part where I get to be lazy and let you guys do some work for me--what are YOU looking forward to the most for '07-'08?



(All images courtesty Boardgamegeek.com, with the exception of the Star Wars Miniatures photo, which is courtesy of Rebelscum.com.)